KWD DESIGN SERVICES
Specializing in high-end residential and community projects, our intricate designs have been enriching the fabric of Florida's landscape since 1984. Whether your project consists of a renovation or we are starting from a blank slate, we're ready to help you transform your outdoor space from simple to stunning!
CONCEPTUAL DESIGN SERVICES
The first step is to create a conceptual design.
We paint with a wide brush to let your imagination fill in the details, inviting you into the creative process.

The Conceptual Design Phase brings the synergy of your vision and the expertise of our design staff to life.   Whether it's a masterfully drawn concept, a 3D computer generated concept, or a combination of both, the possibilities are endless. 
Conceptual designs may go through several iterations before we arrive at a final concept. Aesthetic beauty and flawless function are at the heart of every design.  Our goal is to create spaces that provide the platform for unforgettable memories and stunning visual pleasure. 
Once a final concept has been approved, we move to the second phase, Detailed Design.

DETAILED DESIGN SERVICES
During the Detailed Design Phase, our design experts create the hardscape and landscape plans that show the layout, sections, details, elevations, dimensions, finishes, and landscape lighting sufficient for bidding, permitting and construction. Clients also have the option of hiring us to assist with the submission and implementation phases.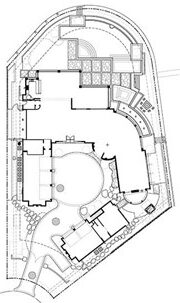 Hardscape Plans: Hardscape plans show the layout, sections, details, elevations, dimensions, and material selections for elements such as: pools, spas, water features, fire features & conversation pits, outdoor kitchens & bars, entertainment spaces, decks, pergolas & overhead structures, retaining walls, site amenities, paving patterns, tile selections, and more.  
Landscape Plans: Landscape plans show the location, name, size, quantities and specifications of all plant material selected for your project. These plans detail existing plant material that will be relocated or removed.  An estimate of probable cost is also issued to assist clients in managing their project budget.  
Finish Plans: Finish plans provide specifications related to the material selections and show the layout, pattern, and direction of the selected materials.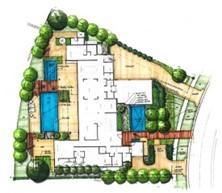 Landscape Lighting Plans: Landscape lighting plans logically follow the landscape plans. They show the location, type, height and intensity of all landscape lighting proposed for your property. These drawings are prepared at a sufficient scale so the light fixtures can be coordinated between the planting and electrical contractors and be accurately located in the field to produce the desired effect.
Implementation: Implementation includes professional services such as site visits, progress assessment, reviewing and evaluating bids, review of shop drawings and field adjustments.
Submission: Submission includes the preparation and issuance of hardscape and landscape plans that will be submitted to governing agencies, homeowner associations, architectural review boards, etc.  This phase also includes coordination with the lead consultant for a given project.
A contractual agreement is required for Conceptual Design Services and Detailed Design Services
OUR VALUES
Founded on the core values of Innovation, Generosity and Integrity, these fundamental principles are the guiding truths by which KWD operates. We endeavor to provide our clients with unparalleled design innovation, to share the blessings bestowed upon us with a spirit of generosity, and to lead KWD with uncompromising integrity. To learn more:
OUR VALUES
To be a modern, efficient, and forward thinking design firm that authors unparalleled designs that enhance quality of life while also respecting the environment. To learn more:
OUR VALUES
To be designers of the environment, giving phenomenal artistic form, order, and function to creation. To serve a higher purpose of creating spaces that significantly create a better quality of life in social, urban, and natural environments. To learn more: